English is the most widely spoken language in the world, both as a domestic language and a business language. This means that if your child wishes to thrive internationally, having a strong grasp in English will be crucial to their ambitions, as it allows them to be eloquent and effective communicators in both spoken and written word. This is a process that starts at a young age, when impressionable students lay their foundations, which explains why parents tend to send their children to a good English tuition centre for primary or secondary school students. Nevertheless, if your child is struggling with English, there are still ways to get them up to speed and set them on the right path. With that in mind, here are 3 helpful tips to strengthen your child's command of English.
Regularly Practise English in Every Form
English isn't like Math or Science where constantly doing ten-year series and past-year papers can actually help you improve your all-round proficiency. At best, you will be able to memorise a few grammatical rules, but it doesn't improve other essential areas of English, such as listening, speaking, or writing. While practice papers certainly have their place when it comes to learning English, it also requires a more holistic approach. Encourage your child to listen to more English media, from television shows to even YouTube videos that cater to their interests in order to keep them engaged. Listening to spoken English from different regions also enables them to pick up nuances and develop the ability to identify how English is spoken in different parts of the world.
It is also just as important that your child converses in English regularly, whether it's with you, their peers, or with an English tutor. In Singapore, it also goes without saying that Singlish has no part to play in these conversations if your child's end goal is to improve their speaking skills. Encourage them to refrain from speaking Singlish during conversational practices so they are forced to recall and use the correct grammatical and sentence structures whilst doing so. If you prefer to have them practise in a professional environment where there's an expert to maintain high conversational standards, consider enrolling them at an English tuition centre. Here at Augustine English Classes, our principal tutor, Augustine, is able to monitor your child's progress, ensuring that they adhere to speaking in proper English throughout their time at our English tuition centre.
Read and Write More
Reading and writing go hand in hand — the more your child reads, the more they expose themselves to a wide range of vocabulary, writing styles, and different ways to express themselves, ideas, emotions and all, through written English. It's also important not to restrict the genre that your child wishes to read, too. For instance, fiction novels are a great way to expand their creativity, as your child unpacks complex and vast worlds conceptualised in the authors' imagination. On the other hand, reading non-fiction allows your child to better understand how to present ideas and stories in a more down-to-earth manner that will serve them well in non-fictional essay writing and later on, their careers.
Reading in general expands your child's mind and imagination and exposes them to the going-ons of the world around them, and with a wider perspective comes a better understanding of nuanced texts and topics. These are all vital ingredients that shape a fluent writer. If you'd like for your child to pick up the fundamentals of good writing through creative writing classes, enrol them at an English tuition centre that offers a dedicated creative writing programme, like Augustine English Classes.
Signing Up for English Tuition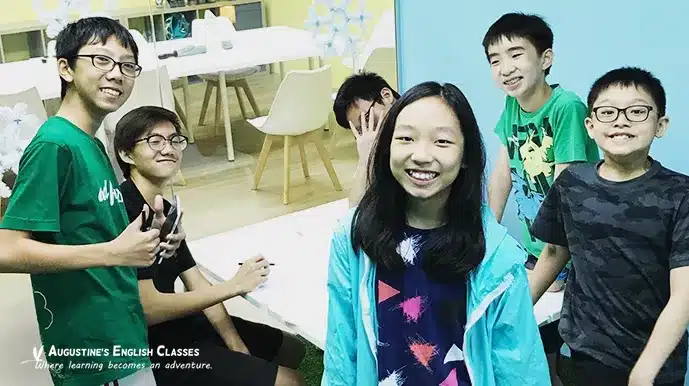 Mastering English is perfectly doable on your own, but getting professional help for your child at an English tuition centre can accelerate their progress. Here at Augustine English Classes, Augustine, our principal tutor, is a strong advocate of active learning, on which our English tuition programmes are built. He encourages students to be proactive and participate in various activities that help them convert head knowledge into applicational skills, all whilst instilling the confidence that your child needs to push themselves further. Also, while many students are enrolled into English tuition at a primary school level, we are also a good English tuition centre for secondary school students — equipping them with the skills and knowledge to excel in O-Level English and use the language effectively during their tertiary education and beyond. After all, English truly is for life.
For more information about our English tuition centre and its programmes, schedules, and methodology, please check out our website.